29/03/2023
Leipziger Messe
ISPO 19th World Congress in the land of Mariachi
From 24 to 27 April, professionals involved in the care of persons in need of prosthetic, orthotic, mobility and assistive devices are gathering in the Mexican city of Guadalajara for the 19th World Congress of the International Society for Prosthetics and Orthotics (ISPO). For the first time in the history of the ISPO, this prestigious industry get-together is to be held in Latin America. "The Art and the Science" is the theme of this year's World Congress and its accompanying exhibition, which will offer opportunities for interdisciplinary exchange and dialogue on professional experiences. At the industry exhibition, over 100 companies from 28 countries are presenting their products and solutions for use in modern treatments for people with disabilities. At the World Congress, speakers from all over the world will give insights into the latest scientific findings as well as state-of-the-art treatments.
Every two years, the World Congress brings together the global P&O community and invites professionals to join in the conversation on scientific and technological developments. As part of its mission to improve the quality of life for persons who may benefit from the rehabilitation practice of prosthetic, orthotic, mobility and assistive technology, the ISPO specifically selects venues for this event in developing countries and emerging economies, thus working towards its vision of creating a world where all people have equal opportunity for full participation in society. Therefore, for everyone attending the event, it is wonderful news that the ISPO World Congress, originally planned for Mexico in 2021, will take place in person in Guadalajara this year.
"After the digital edition in 2021 due to the pandemic, I am delighted that the ISPO community can finally get together in person again and especially excited that we are meeting in Mexico for the first time in the history of the ISPO. The ISPO has chosen this location in order to place a stronger focus on Latin America and offer a platform for the interdisciplinary exchange of knowledge and experience in this significant region", says Claude Tardif, President of the ISPO. "In cooperation with the ISPO national member societies in Mexico, Canada and the USA, we have put together a marvellous congress in Guadalajara with a wide-ranging scientific programme and a comprehensive exhibition. In addition to the high-profile keynote lectures and sessions, a particular highlight of the programme is the launch of the Wheelchair Provision Guidelines by the World Health Organisation (WHO)."
Comprehensive market overview at the exhibition
With over 100 companies from 28 countries, the industry exhibition showcases the entire spectrum of products and services in modern orthopaedic treatment and care. Global players such as Alps South, Blatchford, ORTEN, Össur and Ottobock will be exhibiting alongside Mexican companies including METRICAL, Ortiz Internacional, Orto Move and Prothesia as well as start-ups such as 3Digity, Circleg, Ethnocare und Thrive Orthopedics.
19 companies are from the USA, making up the largest number of exhibitors from any one country, followed by Germany, with 18 companies, and the host country, Mexico, with 10 exhibitors. A total of 12 companies will be presenting their products in a German pavilion.
A particular highlight of the exhibition is the start-up area – an exclusive area for young companies and their innovative solutions. From customised orthotics made on a 3D printer to inlays manufactured from carbon fibres and Direct Fit prosthesis shafts, a total of seven start-ups from Canada, Germany, Mexico, Switzerland/East Africa, the United Kingdom and the USA will be presenting their latest innovations.
In the international community area, ISPO national member societies will provide information on their services alongside approved educational institutions and other non-profit organisations.
All exhibiting companies are listed in the exhibitor directory: www.ispo-congress.com/exhibitor-directory.
Congress programme reflects global expertise
The international World Congress, under the leadership of Professor Deirdre Desmond, is offering a wide range of sessions. The four-day programme includes a total of five keynote lectures, 30 symposia, and 20 basic instructional courses, as well as eight advanced instructional courses, 41 free paper sessions and more than 80 scientific posters. Speakers will be providing insights into their work, ranging from the latest research to modern treatment methods.
The high-profile keynote lectures are traditional highlights of the congress. This year, contributions are expected by Professor Nachiappan (Nachi) Chockalingam, Professor Stefania Fatone, Rosielena (Rosie) Jované and Ana Paulina Chavira, as well as Chris Parsons and Sophie de Oliveira Barata.
Additional lunch time sessions are planned, giving an opportunity for ATscale, the Global Disability Innovation Hub (GDI Hub), the Special Interest Group for Bone Anchored Limbs (SIGBAL) and the Superhumans Center Ukraine to introduce themselves.
To enable local and regional treatment teams from Mexico to benefit from exchange of knowledge at the event, the majority of English sessions will be simultaneously translated into Spanish. There will be English translations for a small number of lectures held in Spanish. Alongside the wide range of scientific sessions, some exhibitors are offering practical workshops in English and Spanish that look at the latest product innovations and modern therapy treatments. For example, FIOR & GENTZ is presenting NEURO HiTRONIC, the first microprocessor-controlled microhydraulic system knee joint with permanent stance phase control and swing phase support.
Amparo Prosthetics will be showcasing its Amparo socket technology at a live demonstration. Using thermoplastic materials, Amparo sockets can be moulded directly onto a patient's residual limb in just one session. O & P Mexico is a local company offering various workshops in Spanish as well as advanced training in prosthetic and orthotic products. The exhibitor workshops are free of charge for congress participants and holders of an exhibition day pass.
An overview of all sessions can be found in the online programme: www.ispo-congress.com/online-programme.
Earn continuing education credits
Participants at the ISPO 19th World Congress can collect Continuous Professional Development (CPD) credits. ISPO, the American Board for Certification in Orthotics, Prosthetics & Pedorthics (ABC) as well as Orthotics Prosthetics Canada (OPC) will be awarding CPD credits. You can find more details on how to receive continuing education credits here: Programme overview.
Prizes and awards at the ISPO World Congress
During the event, the ISPO will honour outstanding achievements by awarding the Brian and Joyce Blatchford Team Prize for Innovation, the Forchheimer Prize and the Sepp Heim Award, as well as the World Congress Best Paper and Poster Prizes.
Registration for the ISPO 19th World Congress
Registration for the congress and accompanying exhibition is open at www.ispo-congress.com/participant-registration.
About the ISPO World Congress
Every two years, the global prosthetics and orthotics sector meets for the World Congress of the International Society for Prosthetics and Orthotics (ISPO). The ISPO World Congress is a unique event where professionals come together to learn about the latest scientific and clinical advances, products, innovative technologies, designs and materials.
About ISPO International
ISPO is a global, multidisciplinary organisation aiming to improve the quality of life for persons who may benefit from the rehabilitation practice of prosthetic, orthotic, mobility and assistive technology by:
Promoting multidisciplinary practice
Facilitating professional education to improve quality care
Promoting research and evidence-based practice
Facilitating innovative and appropriate technology
Fostering international collaboration and consensus
Facilitating knowledge exchange
ISPO membership includes all professionals involved in physical rehabilitation, i.e. prosthetists, orthotists, prosthetic and orthotic technicians, physical and occupational therapists, orthopaedic surgeons, rehabilitation doctors, biomechanical and rehabilitation engineers, community-based rehabilitation workers as well as assistive technology service providers and users. Currently, ISPO is represented by more than 3,300 individual members in over 100 countries all over the world. ISPO International is committed to a world in which all people have equal opportunities to fully participate in society.
About the Leipziger Messe
The Leipziger Messe is one of the ten leading German trade fair companies and one of the top 50 worldwide. It organises events in Leipzig and at various locations all over Germany and abroad. With its five subsidiaries and the Congress Center Leipzig (CCL), Leipziger Messe is a comprehensive service provider covering the entire chain of the events business. It is due to this level of professionalism, that customers and visitors in 2022 voted the Leipziger Messe the service champion of the trade fair industry in Germany's largest service ranking for the ninth time in a row. The Leipzig fairgrounds comprise an exhibition area of 111,900 m² and an open-air exhibition area of 70,000 m². Every year, over 270 events take place – from trade fairs, exhibitions and congresses to events. Leipzig was the first German trade fair company to be certified according to the Green Globe standards. Sustainability is a recurring theme in the Leipziger Messe's corporate activities.
More information: www.ispo-congress.com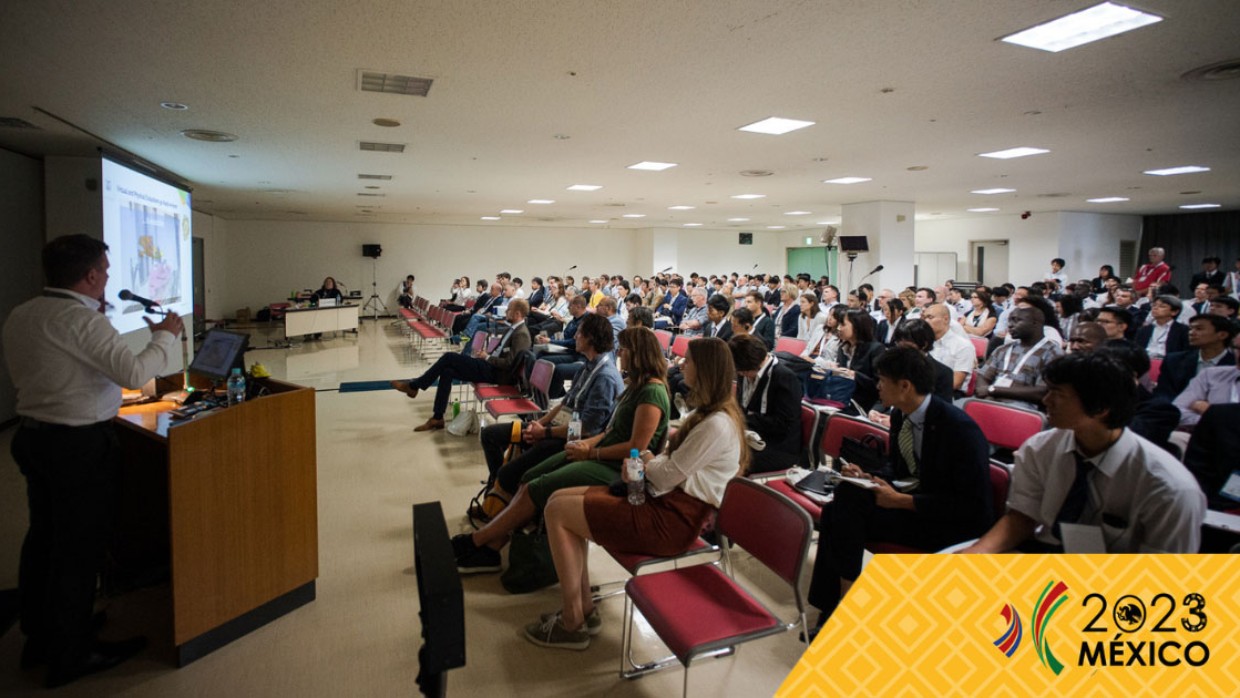 Back to all news